Greenwell raises £1,500 for charity
Staff from North-east family-run business Greenwell Equipment ventured over obstacles and up sand dunes in a 16km challenge to raise vital funds for a Scottish charity.
The Beach Ballistic event was held on 4 August 2018, at Balmedie Country Park in Aberdeenshire was organised by military fitness training and is Scotland's only beach-based OCR (obstacles course racing) event.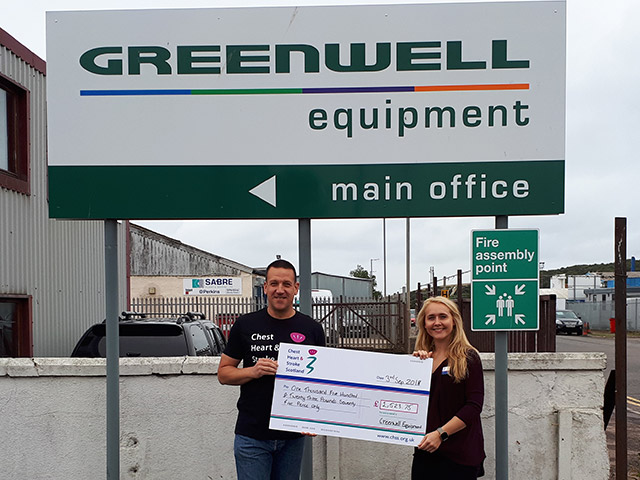 Hundreds of adventurous enthusiasts competed in the annual ultra-beach 16km obstacle course – which included a dip in the extremely cold North Sea, testing their strength, stamina and mental toughness to raise funds for local charities.
Greenwell Equipment which supplies modular buildings, containers, warehouse shelving and pallet racking and office furniture, entered a team to help raise funds for Chest, Heart and Stroke Scotland after one of their team suffered a stroke.
Davie Hay, was installation manager at Greenwell when he suffered a serious stroke last year at the age of 50. Davie had worked for the company for more than 25 years and his presence is sorely missed by both his work colleagues and the many people in the local business community he has worked with over the years.
The Tullos-based company also supplied branded shipping containers for use as obstacles in the gruelling obstacle race that is one of only two World and European Championship qualification courses in Scotland.
It is the second year in a row that Greenwell staff have taken part in the Beach Ballistics event.
Sales Director at Greenwell, Scott Brown, said: "Greenwell has a long history of supporting charitable initiatives and we were delighted to partner with Beach Ballistic once again to make the course as challenging as possible.
"It was a gruelling event, but we survived to tell the tale and it was a superb day out and great for teambuilding. We are delighted that we have raised £1,500 for Chest, Heart and Stroke (North East) and would like to thank all of our clients, suppliers, friends and families for their support and donations."
Katie Jones, regional fundraising officer for the North-east, said "We are truly grateful to the support of Greenwell Equipment this year. A huge thank you to the team for helping us make tangible differences to the lives affected by stroke illness in the local North-east community and allowing us to work towards our vision of no life half lived in Scotland."
Chest Heart & Stroke Scotland is the charity that cares for people and their families affected by chest, heart or stoke conditions. One in every five people in Scotland live every day with the effects of chest, heart and stroke conditions and CHSS believes everyone has the right to live life to the full and that everyone should be able to live the best quality of life after diagnosis.