Are you sitting comfortably?
Twitter recently took the remarkable step of announcing that all of its staff can now work from home forever, and not just until the global pandemic subsides.
The move came after the social media giant's work-from-home measures with its 4000 global staff proved a success during the lockdown, though the company's offices will remain open for those who prefer to get out of the house.
Other large firms like Google and Facebook are also set to have their staff working from home until at least the end of the year.
In the last few months most businesses across the country have been adapting to their workforce operating from the comfort of their own homes and with claims of increased productivity more businesses may be set to follow the workplace flexibility of silicone valley.
However, Julie Wood, director at Greenwell Equipment, is warning that businesses need to be careful not to take the 'out of sight, out of mind' approach as staff health and wellbeing must still remain a priority.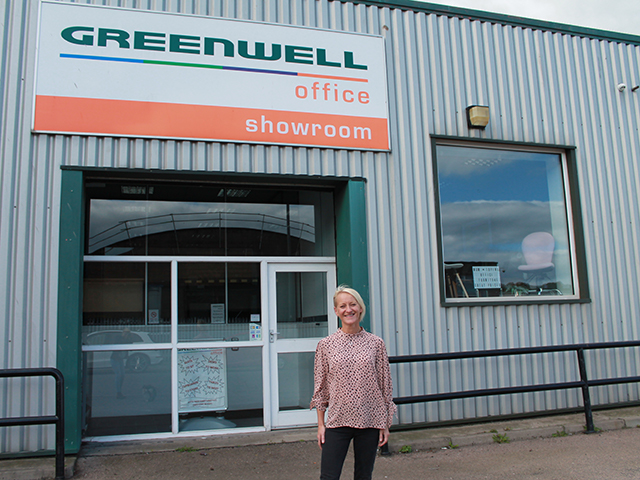 According to Health & Safety Executive figures – 28.2 million working days were lost in Great Britain during 2018/2019, of which 23.5 million was due to work related ill health. The majority of those days lost was due to stress, depression and anxiety and musculoskeletal disorders.
With a large proportion of the workforce currently working from home, businesses need to ensure that staff are actually working comfortably from the comfort of their own home.
Ergonomics has been a key factor in workplace wellbeing with products specifically designed to optimise them for the support and movement of the human body, often referred to as human engineering.
There has been a huge change in office culture over the past six years and with Aberdeen being very oil dominant everyone is ISO aware, therefore most office furniture is now ergonomically designed and 90% of Greenwell's office furniture stock is now ergonomic compared to just 10% a decade ago.
However, countries such as Denmark and Sweden are well ahead of the UK with ergonomics. In fact, Denmark has made it mandatory for employers to offer sit-stand desks to their staff, while most Swedish businesses have made them commonplace.
Sit-stand desks are claimed to reduce the risk of aches, injuries and cardiovascular disease by up to 40% and with muscle activity almost 2.5 times higher when standing at work, it apparently further reduces the risk of sustaining a workplace injury.
New research by Loughborough University revealed that standing at a desk while working boosts productivity, so this is certainly something for businesses to consider introducing for their staff whether they are office workers or home workers.
It is likely to be some time before offices are running to full capacity and if more companies take the same route as Twitter, Google and Facebook, it is crucial to ensure that the 'working from home' culture is not causing wellbeing issues which could lead to work related ill health and lost days at work.
In addition to sit-stand desks, ergonomically designed chairs, footrests, monitor arms, document holders and suitable lighting can all ensure that staff are indeed sitting comfortably.
According to the ACAS guide to homeworking, employers must take overall responsibility for assessing health and safety in the part of the home where an employee will work, and the organisation recommends that a risk assessment is carried out.
So, if companies have found the recent enforced home working beneficial, they should certainly be aware that suitable ergonomic furniture and accessories is just as important as providing phonelines, broadband and stationary to enhance home working.
We have spent years creating a culture of safety in the workplace and it is crucial for that culture to be encouraged and supported as more and more companies embrace remote working.