Family firm celebrates silver milestone
An Aberdeen family firm is celebrating 25 years in business after succeeding to diversify and adapt to market changes over the years to survive.
Greenwell Equipment, which specialises in cabins, containers, warehouse racking and office furniture, launched in 1996 selling second-hand furniture and has since grown to become a multi-million-pound business that has worked on some of the UK's largest infrastructure projects.
Run by brother and sister team, Mark Turnbull and Julie Wood, alongside their father, Richy, Greenwell has delivered contracts for a number of large-scale projects, including the Queensferry Crossing, the AWPR, the new Aberdeen Harbour development, the A9 upgrade and the HS2 Rail development in England.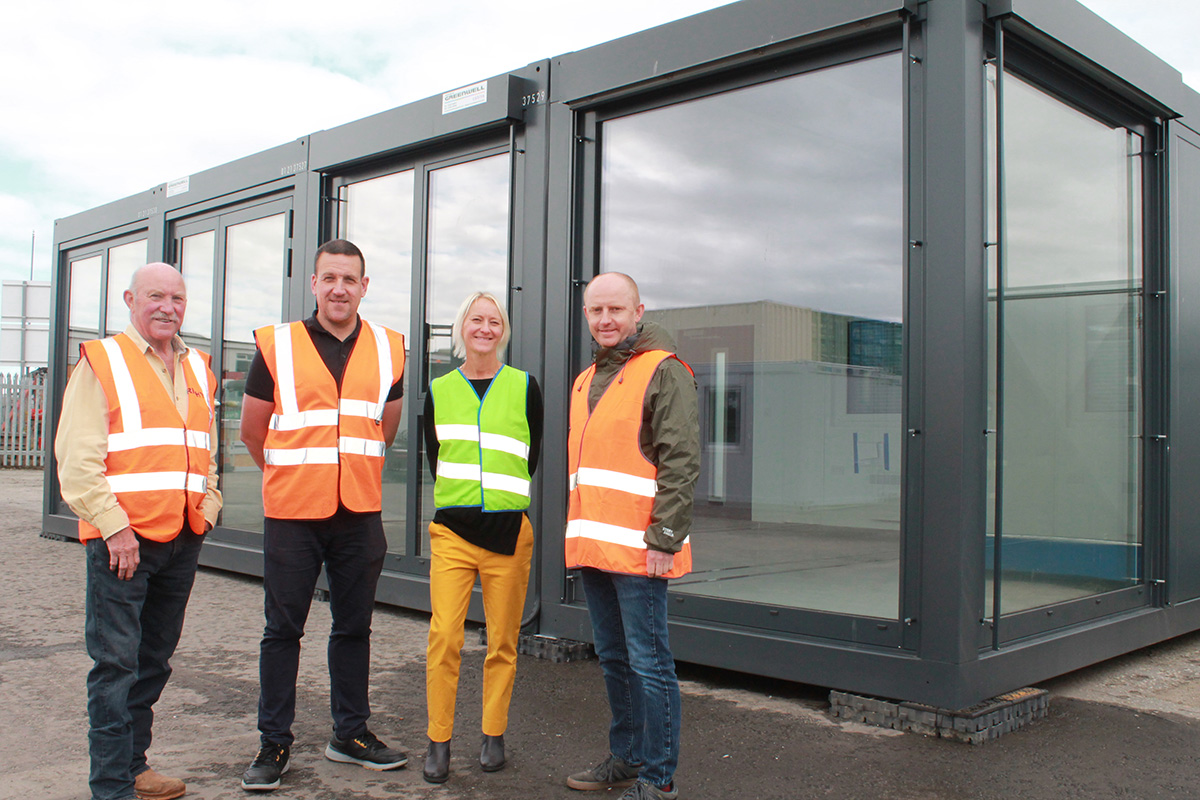 L - R: Richy Turnbull, Scott Brown, Mark Turnbull, Julie Wood
The family has been quick to adapt to market changes, diversifying from the oil and gas industry into construction and civil engineering during oil industry downturns, and during the pandemic they have further targeted the container and office furniture markets, as well as becoming a supplier of specialist staff isolation units and protective screening solutions. The firm has also secured a number of contracts in the renewable energy industry.
Continuing to operate throughout the pandemic the firm, which is based on Greenbank Road with 20 members of staff, hit record sales in shipping containers, quadrupling weekly sales in this division, and saw a 20% growth in its furniture division which diversified to target home working and home schooling.
Managing director, Mark Turnbull, said: "It's remarkable to think that we have been in business for 25 years as it doesn't seem that long ago since we started selling furniture from a 20x8ft cabin. Like most businesses in the North-east, we have faced some tough times with the ups and downs of the oil industry, but we always looked for ways to evolve and adapt and we began to expand our client base to include civil engineering, renewables, fish processing and transportation.
"We have also been fortunate to have a really great team to support us over the years and they have been vital in the success of the business and their ability to move and change with the times as we focus on new areas. Although we are a family business with our roots firmly in the North-east, we have been fortunate enough to work on some brilliant projects across the country. We're now looking forward to the next 25 years!"
Greenwell, which won the Family Business Award in the latest Northern Star Business Awards, is confident there is scope to further develop the business following successful diversification into new markets.
The business recorded a £3.65m turnover in 2020 and is on target for a 50% growth this year.