Aberdeen family firm supports local boys' football clubs
A football-mad Aberdeen family firm is helping local youngster to gear up for local football festivals. Greenwell Equipment (Greenwell), which is based in East Tullos, has provided high quality track-suit tops and bottoms to 27 boys at Newmachar Football Club. The boys, aged 6-8 years, attend football festivals across the North-east and train at the Newmachar Axis Centre.
Mark Greenwell, managing director of Greenwell, is a big supporter of the club, and his son Cal, age 6, has been playing with Newmachar FC for over two years.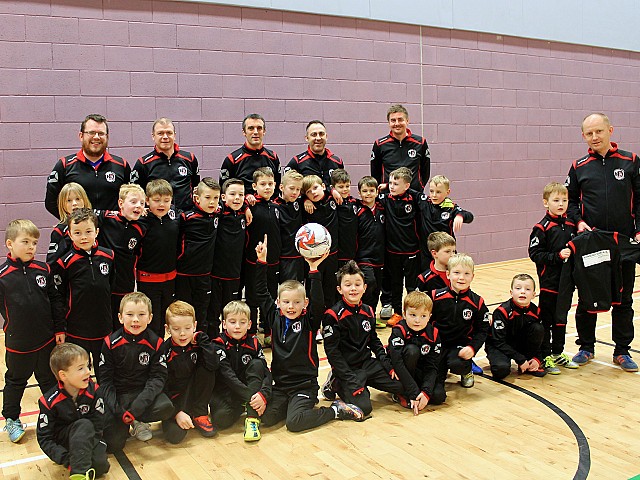 Greenwell Equipment supplies modular buildings, containers, warehouse shelving and pallet racking and office furniture across the world, and the family run firm employs 15 people.
Managing director Mark is a keen football fan, and played himself as a boy and young man. He has recently started assisting the coaches at the club, with a view to training to becoming a qualified coach.
Mr Turnbull said: "I am delighted to help out Newmachar FC. It is a great, local club, which gives youngsters the chance to get some exercise, acquire new skills and learn how to work well in a team. Greenwell Equipment also supports Aberdeen Football Club's Youth Academy, as we see football as an important local activity and also a great discipline and training ground for young people."
Derek Reid, one of the coaches for the club said: "We are really grateful for Mark and Greenwell for their support. We often attend football festivals and the other teams all look great in their kit, so we are thrilled to see our boys all now looking professional. It gives the players a real sense of pride and belonging. Newmachar FC is an inclusive club, there are no try-outs, and we are open to every child of any ability, so we try to keep our costs to a minimum.
"Kit sponsorship is important as it makes the boys proud to belong to Newmachar FC, and encourages them to try their best for the team. The cost of football strips, equipment and transport can add up, so we welcome all the support we can get. The boys are delighted with the new, warm track-suits which they are wearing with pride."