Companies urged to Go Green like Greenwell
Companies are being urged to do more and rethink environmental policies in an effort to join the circular economy movement in the North-east.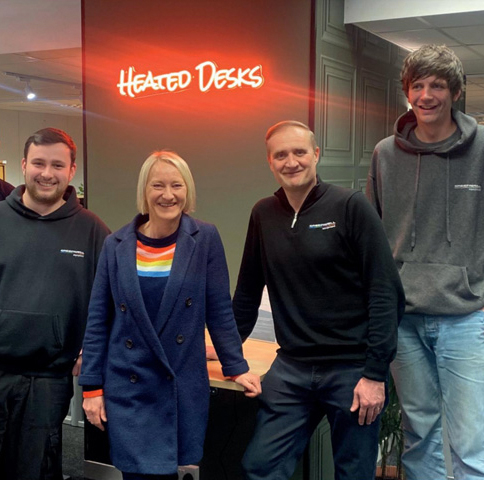 Environmental, Social and Governance (ESG) is a major focus of many companies and within that falls climate, waste and pollution, but many firms are likely missing key opportunities to improve performance in these areas.
Waste is a hot topic following a recent report published by the Scottish Environment Protection Agency (SEPA) which revealed that Scotland generated 9.58million tonnes of waste in 2021, of which only 56.3% was recycled. Plus, there was a 2% increase in waste following the CV19 pandemic.
In addition, an increase in Scottish landfill tax rates from the beginning of April 2023 is yet another push for companies to start rethinking how they manage waste.
Aberdeen headquartered Greenwell Equipment has been diverting waste from landfill throughout its 27 years in business, ensuring that items from each of their divisions, office furniture, cabins, containers, and pallet racking, are continually given a new lease of life.
The phrase 'circular economy' may be fairly new but Julie Wood, Director at Greenwell, has been supporting companies to recycle and reuse for years.
She said: "25 years ago we bought solid oak project desks from one of Aberdeen's large oil and gas operators in Altens, revarnished them and sold them on. Recently the same company moved to a new building in the city centre and, once again, we've bought large quantities of furniture to re-sell at our Aberdeen furniture showroom.
"We've also recently been modifying large workstations into more workable hot desks, so they are a better fit for today's working environment!
"Over the years, we have saved a vast number of items from ending up in landfill, and a number of major infrastructure projects, such as the AWPR, new Aberdeen Harbour and Peterhead Harbour redevelopment have all benefitted from the use of second-hand modular buildings as site offices.
"All of this not only brings massive cost savings to businesses, but it also supports the circular economy and diverts waste from landfill, reducing the impact on the environment and climate change."
Julie also delivers any scrapped or damaged furniture to Aberdeen's Wreck It Room, which works with a number of recycling businesses to ensure left over pieces, such as wood, metal, glass, ceramics, and plastics, are given a second life.
In addition to furniture and modular recycling, Greenwell also keep a stock of second-hand containers and support customers to re-use any pallet racking when they are expanding or redesigning storage space.
Reduce, reuse, and recycle is a key phrase that Greenwell has focussed on since day one of business, and it is encouraging other companies to rethink their environmental approach and investigate if there is more that they could be doing to support Scotland's climate targets.